Welcome to the Jewellery Design & Management International School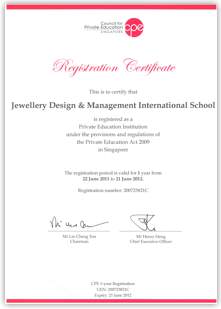 The JDMIS is a unique school in Asia providing Jewellery Design and Management Programs. JDMIS offers Certificate Courses leading to Diploma and Advanced Diploma in both design and management studies. Situated in Singapore, Asia's Education Hub, JDMIS welcomes industry professionals, jewellery enthusiasts and students with a passion for jewellery to explore the world of Jewellery Design, Fabrication and Business.
We are the only official private school in Singapore dedicated to professional training in the jewellery arts. The JDMIS is one of only 328 private educational institutions (PEIs) registered with the Singapore Council for Private Education and is committed to the quality of its instructors, facilities and overall education. Join over 3000 graduates of JDMIS programmes who hail from all walks of life, jewelelry firms large and small, and a wide range of backgrounds and experiences! both design and management studies.