Diploma in Fashion Jewellery Arts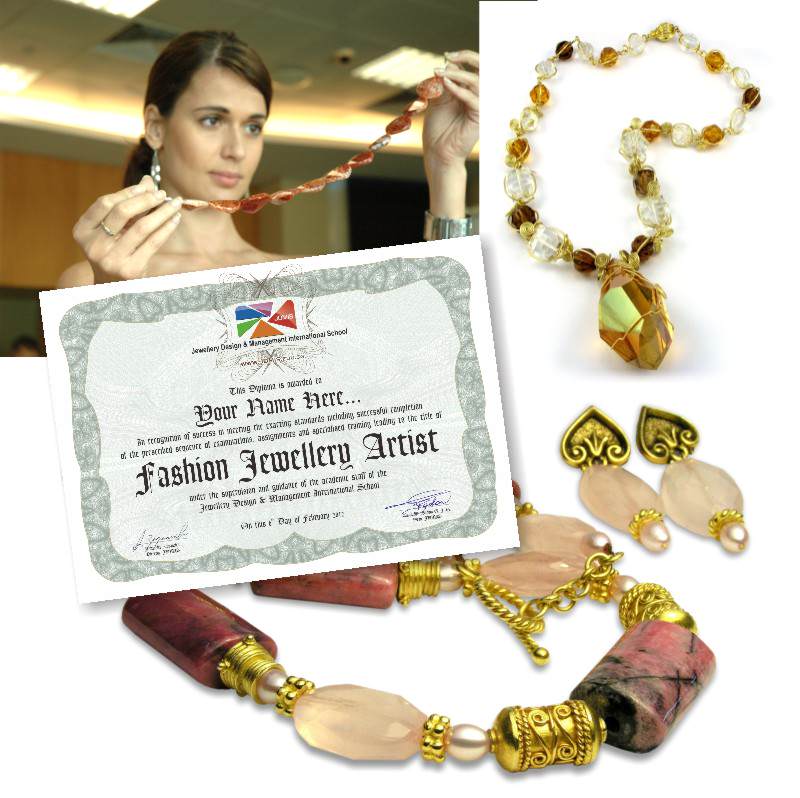 Become a Fashion Jewellery Designer
Successful fashion jewellery professionals must rise above massproduced, low quality merchandise flooding the market and distinguish themselves through design, quality of materials and expert fabrication. This unique and highly specialized diploma combines professional techniques with practical advice, product knowledge and design inspiration to ensure immediate results.
By becoming a Certified Fashion Jewellery Artist, grow your knowledge base, experience and range of design; profit as you carve your niche in this field.
Completing many different styles of design, using a plethora of different materials, and experiencing how to work with customers and design to specification, this programme prepares you for a successful path in the creative jewellery arts..
Certified Fashion Jewellery Artists:
show professionalism & commitment to their craft

produce unique designs using advanced techniques

understand their materials and choose the best




combinations for their jewellery lines

develop their own style and brand, with attention




to detail and quality, that is consistently saleable.
---
---
Book Your Seat Now!
Join us for one of these fascinating sessions by simply giving us a call on 6221 5253 or email This email address is being protected from spambots. You need JavaScript enabled to view it. to go over your options!
You are browsing the old 2012-2018 JDMIS 'Experience' Curriculum!
In 2018, JDMIS underwent a comprehensive course evaluation process involving its education and industry partners. The results of this review was the new JDMIS 'Decennial' Curriculum that is most up-to-date and industry-relevant with established academic pathways to UK universities
Please click here to view the latest info and schedules of this course
---
This is a flagship course at JDMIS...
but there's much much more! Diploma in Fashion Jewellery Arts consists of the following modules:
---
COMPREHENSIVE JEWELLERY CERTIFICATION